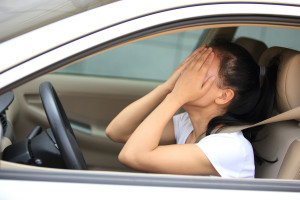 The old adage, "accidents happen," is true in today's world. At Stolberg and Townsend, P.A., we have often consulted with clients who have, due to no fault of their own, been involved in an auto accident.  When we ask them what kind of coverage they have, most people tell us, "I have full coverage." Upon closer examination with our help, we discovered their coverage won't cover all the costs related to their injuries or the damage to their vehicle. We'd like to offer some suggestions to all state of Florida vehicle drivers so you won't feel foolish should you ever be involved in an accident.
Some people purchase the minimum amount of insurance needed to drive legally in the state of Florida. According to the official website of the State of Florida Highway Safety and Motor Vehicles,* Florida's minimum coverage is $10,000 personal injury protection (PIP) and $10,000 property damage liability (PDL) as long as you have a valid Florida license plate on your vehicle.
Also called Florida No Fault Insurance, Personal Injury Protection (PIP) Insurance covers you regardless of fault (i.e. whether or not you cause the crash) up to the limits of your policy. Your PIP will also cover your child, members of your household, and certain passengers who lack PIP Insurance as long as they do not own a vehicle.
People riding in your vehicle who carry PIP will receive coverage under their own PIP for their injuries, as will certain licensed drivers who drive your vehicle with your permission. PIP also covers your child if he or she suffers an injury while riding on a school bus.
PIP coverage protects you while in someone else's vehicle, as a pedestrian, or bicyclist if you suffer an injury in a crash involving a motor vehicle.
Most people purchase more than the minimum amount of insurance required, but they don't understand the limits of their coverage. For example, do you know which coverage protects you from personal liability if you cause an accident versus how much you can recover if someone else is at fault?
Do you have uninsured motorist coverage?  Don't underestimate the importance of uninsured motorist coverage because it helps cover good drivers who are victims of uninsured or underinsured bad drivers.  You should have uninsured motorist coverage equal to your bodily injury coverage. It may not cost much more than your bodily injury liability coverage and it can exponentially increase your overall coverage.
Insurance policies can be complicated, and your insurance agent may not fully explain what your policy covers.
Don't wait until you are in an automobile accident to make sure your insurance plan will cover your needs. Contact us for a free evaluation of your coverage.  We will explain to you what your policy covers, what it doesn't cover, where you have gaps in your insurance coverage and where you may want to make changes to your policy. Then, you can rest easier knowing if you are ever in an accident you are completely covered. Make sure you have "full" coverage, not "fool" coverage.
Call us at (813) 221-1300 to schedule a free consultation.
Let our experience work for you.
*Source: http://www.flhsmv.gov